Hi, after the incredible news that WinUAE was going to support OS4 I just had to get myself a copy and I think it's a really nice update to the old 3.x
Having some issues I like to share and just double check if these are possible bugs or somthing I overlooked.
First thing I noticed where that there is no information about what the users shall do to register their copy of the OS.
For an oldtimer like myself I got the idea, but for new users this could be a lot more clear so they wouldn't miss updates in AmiUpdate.
Then I noticed that some applications, like UnArc looks for the assign TBIMAGES: which wasn't assigned but I had to add it myself.
Translations in the new context menu isn't followed in realtime when changeing language in locale, but then I got the aswer that this
translation isn't done in the normal locale way, but maybe this can be fixed aswell ?
And there are some missed strings in the Swedish translation that might be good to know about, some in the new context menu
and I also found that there was one in the new shell menu.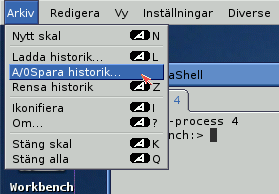 Oh yeah, one last "first observation", sorry for sounding like a nagging lady here =)..
Under the docs I read that the source code for filesysbox.library where going to be downloadable from the download section here at hyperion, but I cannot see that archive ?
That would be all from my first hour of running 4.1FE from my side, hope I didn't sound to negative but I like the system and I think these are small things that
should be easy to fix for future users in mind.