Great! Thanks a lot for testing!

Hi All,
Here is the final kernel 5.12. Many thanks to Skateman, Kilaueabart, Ace, and Musa for testing the alphas and release candidates.

Thanks a lot to Darren for the pas_pci_init_v2 patch.
New:
Download:
linux-image-5.12-X1000_X5000.tar.gz
Cheers,
Christian
Final Kernel 5.12 up and running on my AmigaOne X5000.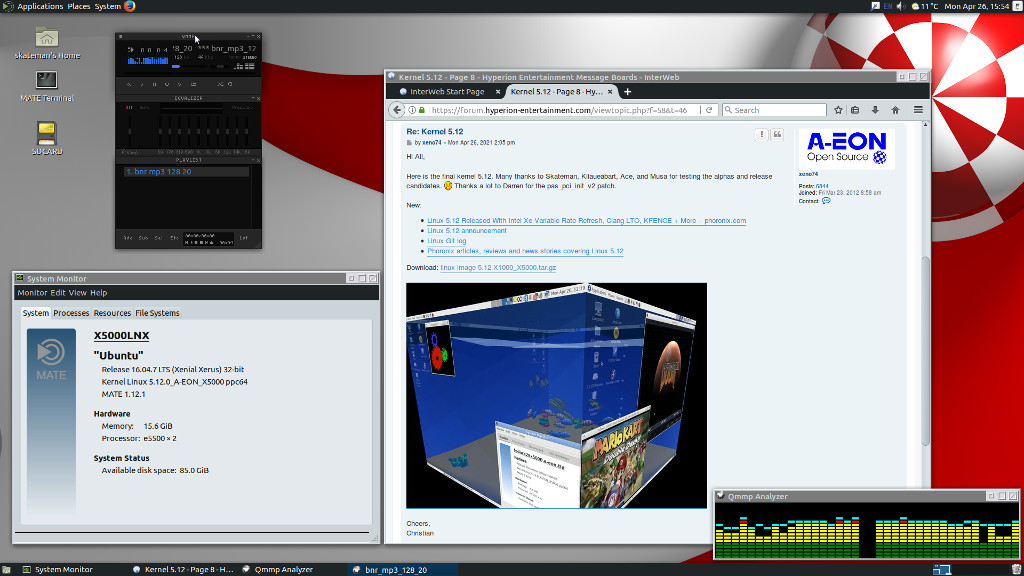 Big picture
http://www.skateman.nl/wp-content/uploa ... 155418.png
Again thanks so much Christian!
Keep up the good work.
AmigaOne X5000 -> 2GHz / 16GB RAM / Radeon R7 250 / M-Audio 5.1 -> AmigaOS 4.1 FE / Ubuntu Linux
Amiga 1200 -> Recapped / 68ec020 ACA 1221ec / CF HDD / RetroNET connected to the world
Posts: 821
Joined: Mon Mar 05, 2012 2:36 am
Kernel 5.12 "final"ly up and ru-u-uning here.
Thank you!

kilaueabart

wrote:

↑

Mon Apr 26, 2021 7:30 pm

Kernel 5.12 "final"ly up and

ru-u-uning

here.
Great!

Christian
5.12 up and running no issues. Thanks again

ace
Fantastic! Thanks for testing!
I created a new uInitrd on ubuntu MATE 16.04.7 yesterday.
Download:
uInitrd-5.12
Please test it.
Thanks
xeno74

wrote:

↑

Sat May 01, 2021 5:06 pm

I created a new uInitrd on ubuntu MATE 16.04.7 yesterday.

Download:

uInitrd-5.12
I encountered a very strange corruption problem with uInitrd... I was running MintPPC, which was started with Kernel 5.12 and uInitrd-5.12. When I started VLC and loaded a net video, VLC and the whole system crashed totally, and the screen was corrupted! There was no other way out than resest X5000.
When I rebooted MintPPC, booting was halted before getting to the Linux partition... I rebooted then using Kernel 5.10 (and uInitrd 5.12), and MintPPC loaded normally. I replaced the Kernel 5.12 file in BootSD with a backup, but booting with it did not work.
Then I checked the uInitrd, and noticed the size of it was much smaller than that of the original. I replaced it, and now it was again possible to boot Kernel 5.12!
My question is, how and when can the uInitrd be corrupted?! I thought it is a read-only disk, which is only used in booting...? And how can the crash of VLC cause the corruption...? And what is most strange, how was it possible to boot 5.10 but not 5.12 with the corrupted uInitrd?!
- Roland -
Hi Roland,

I will test more the new uInitrd.

Cheers,
Christian