Thanks a lot for testing the RC8!

Hi All,
I am happy to announce the availability of the new final kernel
5.9
for our AmigaOnes. Now, we have the possibility to use the latest Linux kernel on our AmigaOnes. With modern distributions like
Fienix
, it is possible, to use many features of the new kernel 5.9.
Many thanks to all for helping me with testing, reporting, and fixing problems during the kernel 5.9 test time. Have a lot of fun with the new kernel 5.9.
New:
Download:
linux-image-5.9-X1000_X5000.tar.gz
Cheers,
Christian
Posts: 758
Joined: Mon Mar 05, 2012 2:36 am
I predict linux-image-6.0-alpha1 by New Years.
Final Kernel 5.9 running fine on my AmigaOne X5000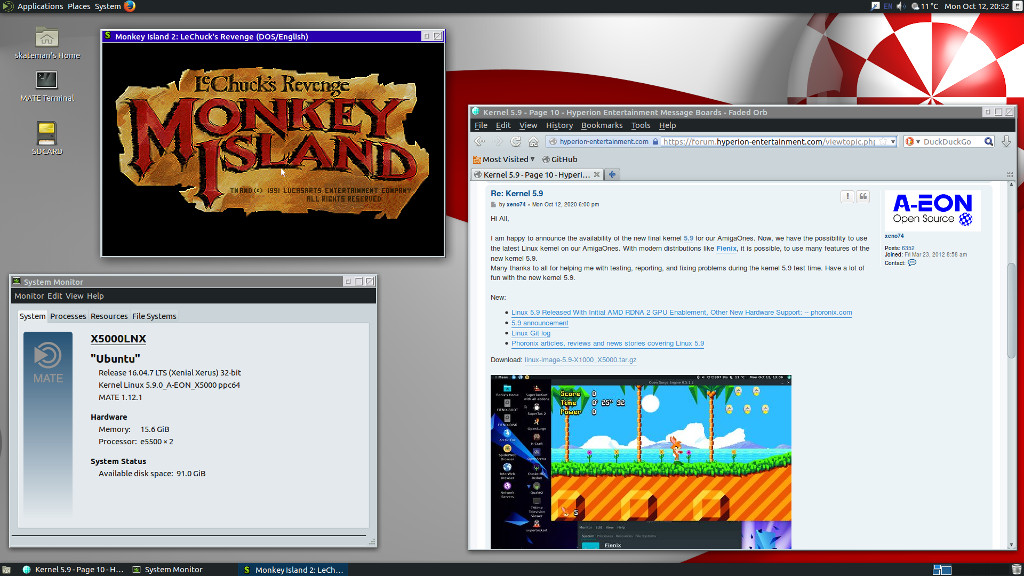 Big picture
http://www.skateman.nl/wp-content/uploa ... 205213.png
Software running is ScummVM with the MsDos version of Monkey Island !!
AmigaOne X5000 -> 2GHz / 16GB RAM / Radeon R7 250 / M-Audio 5.1 -> AmigaOS 4.1 FE / Ubuntu Linux
Amiga 1200 -> Recapped / 68ec020 ACA 1221ec / CF HDD / RetroNET connected to the world
kilaueabart

wrote:

↑

Mon Oct 12, 2020 7:25 pm

I predict linux-image-6.0-alpha1 by New Years.
Yes, it could be.

Thanks a lot for testing!

Many thanks for testing!

Christian
Kernel 5.9 Final up and running with no issues so far. Apologies I have not had much time with my Amiga lately. Again thanks for your fantastic ongoing efforts.

ace
Hi Ace,
It's OK. Thanks for testing the kernel 5.9 final!

Cheers,
Christian