Hi All,
A new U-Boot version is available for the AmigaOne X5000. It supports the DPAA onboard X5000 ethernet adapter!
Please ask your support because of the new U-Boot. (Cyrus_50x0_uboot_22102018)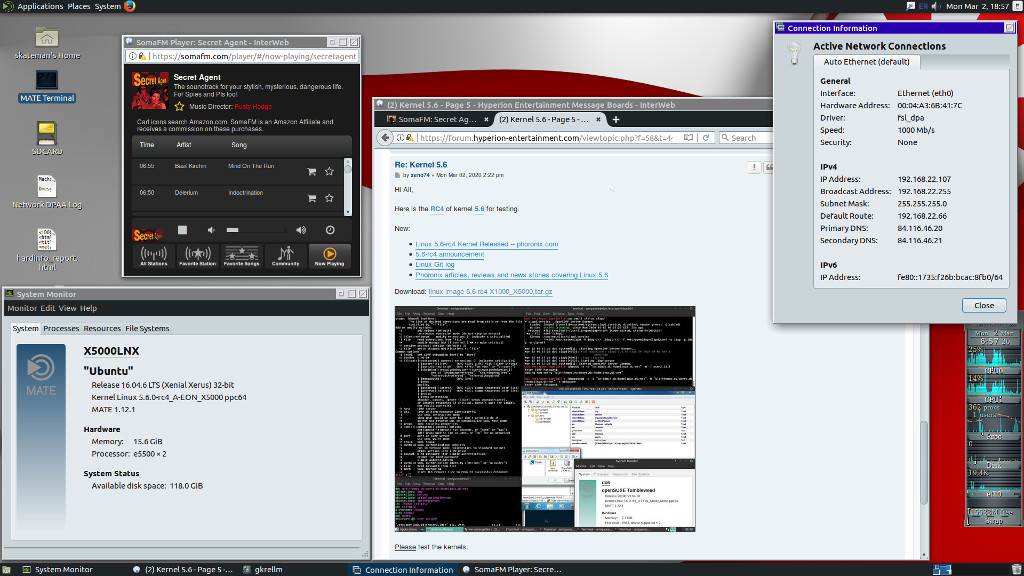 Big picture
http://www.skateman.nl/wp-content/uploa ... 185720.png
Unfortunately the new U-Boot doesn't solve the issue with the DPAA onboard ethernet on the X5000/40. Maybe a dtb issue?
Code: Select all
dmesg | grep dpaa
[    2.643670] fsl_dpaa_mac ffe4e6000.ethernet: of_get_mac_address(/soc@ffe000000/fman@400000/ethernet@e6000) failed
[    2.643875] fsl_dpaa_mac: probe of ffe4e6000.ethernet failed with error -22
[    2.644039] fsl_dpaa_mac ffe4e8000.ethernet: of_get_mac_address(/soc@ffe000000/fman@400000/ethernet@e8000) failed
[    2.644227] fsl_dpaa_mac: probe of ffe4e8000.ethernet failed with error -22
[    2.644412] fsl_dpaa_mac ffe4e0000.ethernet: of_get_phy_mode() for /soc@ffe000000/fman@400000/ethernet@e0000 failed. Defaulting to SGMII
[    2.644911] fsl_dpaa_mac ffe4e0000.ethernet: FMan dTSEC version: 0x08240101
[    2.645252] fsl_dpaa_mac ffe4e0000.ethernet: FMan MAC address: 00:04:a3:6b:41:65
[    2.645552] fsl_dpaa_mac ffe4e2000.ethernet: of_get_phy_mode() for /soc@ffe000000/fman@400000/ethernet@e2000 failed. Defaulting to SGMII
[    2.645789] fsl_dpaa_mac ffe4e2000.ethernet: FMan dTSEC version: 0x00000000
[    2.646164] fsl_dpaa_mac ffe4e2000.ethernet: FMan MAC address: 00:1e:c0:f8:01:59
[    2.646447] fsl_dpaa_mac ffe4e4000.ethernet: of_get_mac_address(/soc@ffe000000/fman@400000/ethernet@e4000) failed
[    2.646637] fsl_dpaa_mac: probe of ffe4e4000.ethernet failed with error -22
[    2.646814] fsl_dpaa_mac ffe4f0000.ethernet: of_get_mac_address(/soc@ffe000000/fman@400000/ethernet@f0000) failed
[    2.647010] fsl_dpaa_mac: probe of ffe4f0000.ethernet failed with error -22
[    2.647192] fsl_dpaa_mac ffe5e0000.ethernet: of_get_mac_address(/soc@ffe000000/fman@500000/ethernet@e0000) failed
[    2.647380] fsl_dpaa_mac: probe of ffe5e0000.ethernet failed with error -22
[    2.647556] fsl_dpaa_mac ffe5e2000.ethernet: of_get_mac_address(/soc@ffe000000/fman@500000/ethernet@e2000) failed
[    2.647745] fsl_dpaa_mac: probe of ffe5e2000.ethernet failed with error -22
[    2.647927] fsl_dpaa_mac ffe5e4000.ethernet: of_get_mac_address(/soc@ffe000000/fman@500000/ethernet@e4000) failed
[    2.653296] fsl_dpaa_mac: probe of ffe5e4000.ethernet failed with error -22
[    2.658733] fsl_dpaa_mac ffe5e6000.ethernet: of_get_mac_address(/soc@ffe000000/fman@500000/ethernet@e6000) failed
[    2.664327] fsl_dpaa_mac: probe of ffe5e6000.ethernet failed with error -22
[    2.670067] fsl_dpaa_mac ffe5e8000.ethernet: of_get_mac_address(/soc@ffe000000/fman@500000/ethernet@e8000) failed
[    2.675781] fsl_dpaa_mac: probe of ffe5e8000.ethernet failed with error -22
[    2.681637] fsl_dpaa_mac ffe5f0000.ethernet: of_get_mac_address(/soc@ffe000000/fman@500000/ethernet@f0000) failed
[    2.687526] fsl_dpaa_mac: probe of ffe5f0000.ethernet failed with error -22
[    2.695526] fsl_dpa dpaa-ethernet.0 eth0: Probed interface eth0
[    2.703466] fsl_dpa dpaa-ethernet.1 eth1: Probed interface eth1
[    7.369093] fsl_dpa dpaa-ethernet.0 eth0: init_phy() failed
[    7.488799] fsl_dpa dpaa-ethernet.1 eth1: init_phy() failed
[  195.455343] fsl_dpa dpaa-ethernet.1 eth1: init_phy() failed
[  308.541945] fsl_dpa dpaa-ethernet.0 eth0: init_phy() failed
[  315.756304] fsl_dpa dpaa-ethernet.1 eth1: init_phy() failed
[  420.228314] fsl_dpa dpaa-ethernet.1 eth1: init_phy() failed
[  489.474505] fsl_dpa dpaa-ethernet.1 eth1: init_phy() failed
[  683.936517] fsl_dpa dpaa-ethernet.0 eth0: init_phy() failed
[  689.960667] fsl_dpa dpaa-ethernet.1 eth1: init_phy() failed
[  728.345988] fsl_dpa dpaa-ethernet.1 eth1: init_phy() failed
[  910.461141] fsl_dpa dpaa-ethernet.0 eth0: init_phy() failed
[  920.210613] fsl_dpa dpaa-ethernet.0 eth0: init_phy() failed

dhclient eth0
RTNETLINK answers: No such device

dhclient eth1
RTNETLINK answers: No such device


Cheers,
Christian