Hi I am hoping to get some help and support for my Crowdfunding campaign.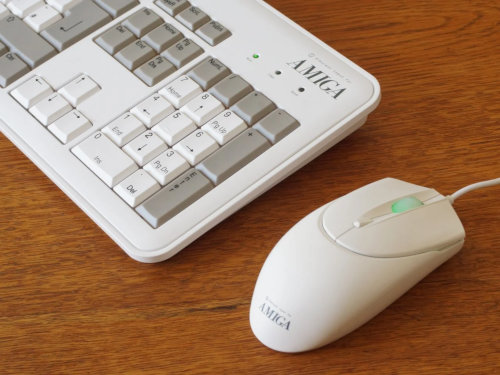 Basically I have all the tooling and manufacturing in place to have Amiga-style and other retro inspired modern USB PC keyboards and mice made.
The aim is to produce some very affordable (but still good quality) keyboards and mice that can be used mainly for emulation and with modern systems - but they will also still work via adapters with classic Amiga computers and CD32.
I have already had a prototype made and Mike from Amiga Inc. has initially seemed positive about the project. I also have Acorn brand holders on board (as I also wish to make Acorn, Amstrad and Sinclair style versions too). The reason I need a few platforms is mainly just to factory minimum order quantities.
Anyway I am ready to launch my IndieGoGo crowdfunding campaign and even have the pre-launch page and a video to show the product ready!!
BUT I am stuck now in a licensing limbo

I've not had final approval from Amiga Inc. despite Mike's positive comments and I am left not knowing if I am actually allowed to start the campaign (I am happy to pay a royalty or use Amiga licensing terms if needed).
Acorn have generously already given me the go ahead, but Sky UK (who own the Amstrad and Sinclair brands) have me also stuck in limbo. They will not say what I can or can't launch with... Their lawyers tend to play it safe with generic legal email replies and that aren't very specific in regard to what is "passing-off" or not allowed.
I wanted to reach out to the community and hopefully get some support from you guys.
I feel this would be a great product - just to give another option for Amiga fans at a good price (retro computing is already an expensive hobby!) and these mice and keyboards would work on new systems for NextGen Amigas, yet also save wear on tear on collectable retro Amigas via using adapters. They'd even be a good option if an original keyboard or mouse is not available, or if it is already too expensive. You may have a broken or faulty one on your A1000-A4000 for example...
I realise A1200.net and other projects are already filling the need for replacement keycaps or cases, mechanical keys etc etc and I love all of this and I've even pledged myself - so with that in mind I wanted to go a different route and not tread on anyone's toes.
I also wish to donate to well-known vintage computing charities too, so it will be for a good cause.
If anyone knows anyone at Amiga Inc. or Sky UK, or has friends or colleagues that may know anyone that could give me some help or an inroad to get the project started in regard to licensing it would be a great help. Please PM me. I really appreciate any support.
I've put a lot of money and time already into setting up the manufacturing and tooling/mold, as well as colour matching, design, having the prototype made, making the video and even meeting with an IP lawyer etc.
I just now need some help and support with the final push.
If anyone wants to see the project and video here is the pre-launch page:
https://www.indiegogo.com/projects/simu ... ards-mice/
Please sign up on that page to the newsletter and hopefully when I finally do get fully approved I can let you know that the campaign has begun!
I am trying to be very respectful and not start the project without the correct permission.
Thanks very much indeed and I realise this may not be for everyone, but I am just trying to do something which I think is cool and offer another input option for those who can't afford more expensive options, as well as help the community and charities too

NOTE ON KEYBOARD & MOUSE DESIGN:
I wanted to note on the keyboard and mouse as I know purists may not like the style of the keycaps or non-tank mouse etc. There are good reasons I've gone this way though.
For one the same mold has to be used for all the computer platforms I want to use (again due to MOQ). So to save production costs and hopefully also give a bit more wrist-strain relief and modern comfort I have gone with "half-height keycaps" rather than full profile ones. These are not completely flat or chiclet laptop style, they still have some shape and profile to them in order to not look completely out of place with classic hardware BUT they do allow for easier manufacturing and a little lower final retail price. The same reasons with not choosing and Amiga-looking or "tank" mouse style really as above, these are a modern and high DPI mouse with micro-switch buttons and really nice and light to use. Again they are neutral in style across the other platforms too such as Acorn/Amstrad etc. The result means that I hope to have both mouse and keyboard available for under £60/$75 and bearing in mind that includes licensing and donating to charity. I can only estimate this at this stage of course but I will give the best feasible price!